In this issue:
Welcome from the Executive Chair
Latrobe Valley Mine rehabilitation research projects
Final Commissioner's Annual Report tabled in parliament
Upcoming webinars
---
From the Executive Chair
Welcome to the summer edition of the Mine Land Post.
In this edition, we have decided to present some of the important ongoing research into mine rehabilitation, and the many organisations and partnerships focused on delivering new knowledge needed to develop safe, stable, and sustainable landforms benefiting the Latrobe Valley community into the future. We have chosen to concentrate on research that is being undertaken in the Latrobe Valley, or being undertaken by local research groups. The research that is being undertaken is targeted on creating fundamental knowledge that can be used widely and confidently, to ensure we deliver the best outcomes for the region.
The research projects and programs described here represent only one part of the total program of work that is being undertaken to develop regulatory, socio-economic, and environmental frameworks needed to build the landforms that will support future beneficial uses, and ensure that after mining a positive and enduring legacy remains for future generations. Each of the mine operators, and Victorian government departments are undertaking a wide range of studies that are needed to infill the gaps in knowledge that exist at the present time..
Many of the studies are being supported or undertaken by specialist consulting firms with extensive experience in rehabilitation, environmental, and socio-economic processes.
We can't bring you information on all of these studies here, but in future editions we will ensure that you are aware of any relevant reports and study outputs that will inform the rehabilitation of the mines as they are published.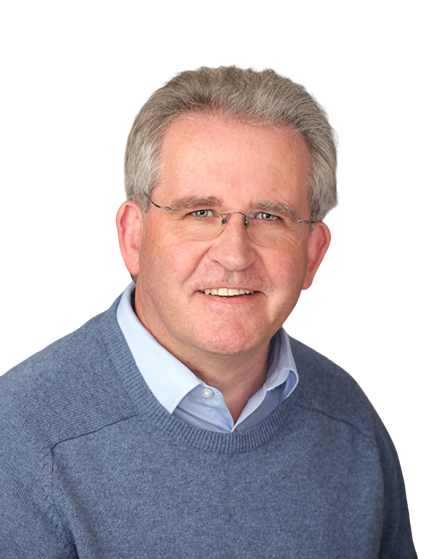 The Mine Land Rehabilitation Authority (MLRA) is approaching six months old, and we have been busy throughout this time overseeing the work of the mine operators, and the implementation of the Latrobe Valley Regional Rehabilitation Strategy (LVRRS). The government's implementation actions are all in full swing, and we look forward to providing an update on these in the new year. We have also been active in building our capacity, as we grow to meet future rehabilitation needs for the region, and Victoria.
In the meantime, enjoy reading this edition, and do feel free to contact us if you want any further information, or clarification of the content of this Post.
On behalf of the MLRA Board and the staff of the Authority, I wish you all a safe, enjoyable time as we all take a well earned break, and look forward to continuing the conversation in the new year. Until 2021!
Yours,
Rae Mackay
Board Chair
---
Geotechnical and Hydrogeological Engineering Research Group (GHERG)
Federation University's GHERG, established in 2009 to undertake research and education on the stability of the Latrobe Valley mines, is leading three targeted projects related to the rehabilitation of our brown coal mines in order to build better understanding of the physical controls that are proposed to create safe, and stable landforms for sustainable future use. The first two are one-year studies funded through the Victorian Government's LVRRS work program. The third is a two-year study funded by Energy Australia, Yallourn.
---
Measuring coal cover stability and long rehabilitated slopes
A numerical investigation of coal cover stability and long rehabilitated slopes in Latrobe Valley brown coal mines.
Coal slope coverage is a vital component of future Latrobe Valley mine pit rehabilitation. Slope covers on exposed coal surfaces provide a range of beneficial properties for rehabilitated mining areas including, minimising the infiltration of surface water and the risk of coal fires.
The steepness of rehabilitated mine slopes are typically governed by erosion rates and machinery accessibility for land maintenance. While these are important considerations for coal slope designs, the integrity of coal covers is equally important. A typical coal slope cover comprises a clay cap with a shallow top soil that is vegetated to minimise erosion risk.
Previous research identified that the shear strength of the clay controls the mechanical behaviour of the clay-coal interface. This project extends previous work to explore the potential impact of cover degradation on pore pressures and ground movements.

Research outcomes will assist in quantifying the potential for damage to the integrity of the cover through cracking, infiltration of water, and excess pore pressures that may cause the cover to fail or induce larger scale ground movements. Hydrogeomechanical models are used to investigate how cover stability can be affected by cracking of the clay covers. For more information contact GHERG.
---
Water quality and stable rehabilitated landforms
Current options proposed for mine rehabilitation include, filling the pits with water, either partially or in full.
The pit water quality will be dominated by the sources of water supply, as well as by evaporation. This research project explores the potential for the strength of coal in the pit faces to be affected by infiltration of pit lake water into the pores of the coal and changing the chemistry of the pore waters.
A large number of core samples are immersed in different quality water baths in a
temperature controlled laboratory, to represent the possible ranges of pit lake water quality, and to allow diffusion of the waters into the core samples.
The samples are then tested at a range of time intervals to examine whether there are observable changes in compressive strength. This research will assist in ensuring that rehabilitation of Latrobe Valley's three coal mines will result in stable landscapes in the long-term. For more information contact GHERG.
---
Assessment of horizontal bore performance in brown coal mines
Maintaining stability of mine batters (mine walls) with horizontal bores.
Horizontal bores are a requirement of maintaining the stability of mine batters (mine walls) of the Latrobe Valley's open-pit brown coal mines, by reducing the likelihood of catastrophic slope failure by lowering groundwater pressures within the coal batter.
Although a common management measure for ensuring slope stability, there seems to be limited information available on the assessment of horizontal bore performance in brown coal over time, and maintenance scheduling to ensure their effectiveness.
Performance of horizontal bore drainage is being investigated by studying water discharge rates, and the internal features and changes with age of bores. Owing to complexities in surveying long horizontal bores (up to 400 metres in length) using standard drain inspection methods, GHERG has developed, with EnergyAustralia, a technique for inserting an optical borehole camera over the whole length of a horizontal bore.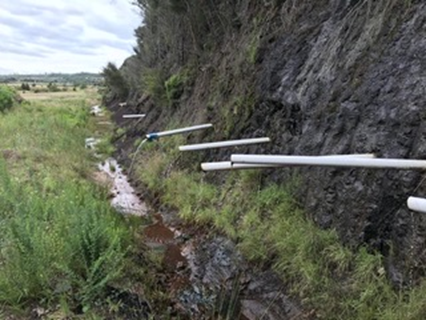 The technique has proven to be effective for inspecting a range of borehole performance variables, including the identification of fractured or jointed material, borehole geometry, and features, and location-dependent water outflow, and drainage paths. Comparison of the identified physical borehole features with drainage performance facilitates an understanding of how these variables are correlated.
Research outcomes will improve understanding of horizontal bore operation, and enhance future brown coal slope stability management programs. This study is being funded by Yallourn Mine, Energy Australia, and conducted by Professor Thomas Baumgartl, and Cristhiana Perdigão. For more information contact GHERG.
---
Cooperative Research Centre for Transitions in Mining Economies (CRC TiME)
Established in 2020, CRC TiME aims to unite Australia's regions in the development and delivery of economic, social, and environmentally resilient post-mining futures.
It is a unique partnership of 74 mining companies, government agencies, regional development organisations, mining equipment, technology, and service companies, indigenous organisations, and research providers to support the successful transition of mining communities to form sustainable community and development opportunities.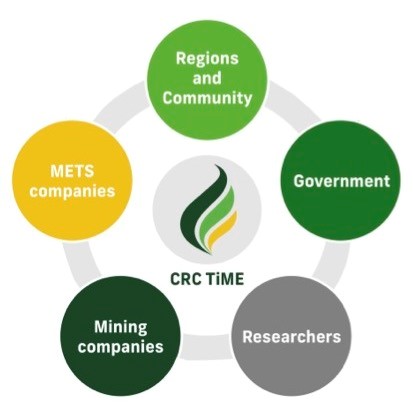 CRC TiME's transdisciplinary research is structured through five programs designed to target those areas where economic, environmental, and social resilience is potentially vulnerable in post mine scenarios.
The research programs will combine biological, physical, and chemical science, and engineering with environmental, economic, social, and computational innovation.
The first 22 foundational research projects, led by researchers from CRC TiME's partners, will commence in 2021 to deliver state of the art knowledge on key mine challenges: mine closure decisions optimising environmental, economic and social benefits from site to regional scale, opportunities or barriers in the regulation of mine closure, relinquishment and re-purposing, integrating long term value into short term decision making, identifying and addressing key uncertainties in mine closure risk planning, new technologies and design mechanisms to ensure post mine landscapes minimise risks and deliver new re-purposed opportunities.
Researchers from Federation University have been successful in participating in four of the foundation projects in collaboration with partners from Universities, Governments, and Industry, included in this section. The
CRC TiME foundational projects presented below all have relevance to the Latrobe Valley and input from Latrobe Valley contributors.
---
Cumulative Regional Impact Assessment (CRIA)
A framework for environmental, economic, and social impact assessments for Indigenous and non-Indigenous Australians.
Australia will see a substantial change in mining activity and management as 50% of current mines are expected to close over the next 25 years, resulting in significant changing land uses (e.g. production systems, conservation of native ecosystems, alternative land uses).
Major impacts are anticipated, particularly in regional and indigenous communities where mining activities are typically concentrated. Building capacity to manage regional land use changes and impacts (i.e. environmental, economic, and social) on mining communities, requires a platform that dynamically and digitally assesses the cumulative regional impacts.
CRC TiME's foundation project on CRIA examines best practice, hurdles, and how industry and other end users are using CRIA throughout the life of a mine (LoM), particularly at the regional level as mines move towards closure.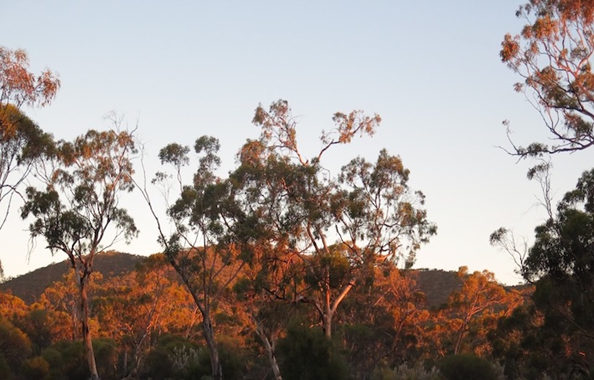 The 12-month project is being led by Dr Renee Young from the Western Australian Biodiversity Science Institute. Twelve project partners supporting the project with local contributors including Dr Jess Reeves, Federation University, and Anthony Feigl, Director of Coal Resources Victoria.
The project comprises a detailed literature review of published and grey literature (i.e. unpublished or non-commercial literature) synthesising the current knowledge base, conducting end-user surveys/interviews, undertaking a gap analysis, and outlining research priorities. The aim being to build a strategic framework(s) to inform future research priorities and programs, including the proposed future research phases for CRIA. For more information contact CRC TiME.
---
Sharing mine rehabilitation trial data
The Mine Rehabilitation Trials Online (MRTO) is a foundation project exploring the question, "Can we find a way to share mine rehabilitation trial data?"
The project aims to establish and pilot agreed data stewardship and governance frameworks, that allows Australian mine rehabilitation trials data and information from all sources (private and public), to be discoverable. The project will pilot two case studies – one in Western Australia's Pilbara region, and the other in Victoria's Latrobe Valley precinct, to demonstrate the potential rewards for the industry, and test the social and technical architectures.
Project participants include CSIRO, Fortescue Metals Group, Rio Tinto Services, Energy Australia, Rangelands NRM WA, WA Biodiversity Science Institute, and government departments in Victoria, SA, and Queensland. The most significant research challenge is expected to be finding a clear incentive for the participants to share their data. For such knowledge management projects to succeed and endure, data custodians need to see high rewards, no penalty or cost, and require little effort to participate.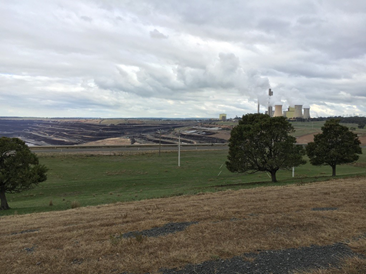 A key aspect of success is determining what the industry participants would like to get out of the research, and how the proposed federation of data might provide them with new insights, or save them time and money.
The expected outcome will be an online portal for the pilot case studies, that demonstrates tangible value in supplying data, and information related to mine closure, and mine closure planning, that can benefit the industry and society.
The project is led by Associate Professor Peter Dahlhaus, Principal Research Fellow, Centre for Research and Digital Information, Federation University. For more information contact CRC TiME.
---
Regulatory framework facilitates mine rehabilitation and repurposing
Mapping the regulation of mine closure, relinquishment, and repurposing across all Australian jurisdictions.
Identifying how the regulatory framework facilitates mine rehabilitation and repurposing is this project's aim. In particular, when and where elements of the framework may block, undermine, or conflict with goals of mine rehabilitation and repurposing, contributing to regional development. It will also seek to ascertain if there are regulatory gaps that frustrate the achievement of those goals, and the potential for defining principles to harmonise the applicable state and national mining, environmental, water resources, and land use regulation.
The project will enhance the community, industry, and government understanding of:
1. Core concepts and goals of mine rehabilitation and repurposing, and the institutions that administer the relevant regulatory frameworks in pursuit of those goals;
2. Regulatory frameworks (state, territory, national) for mine rehabilitation and repurposing; and
3. Experience with current mine rehabilitation and repurposing plans and processes, their consistency with existing regulatory frameworks, and any regulatory reforms to achieve an equitable, efficient, and effective framework for mine rehabilitation and repurposing.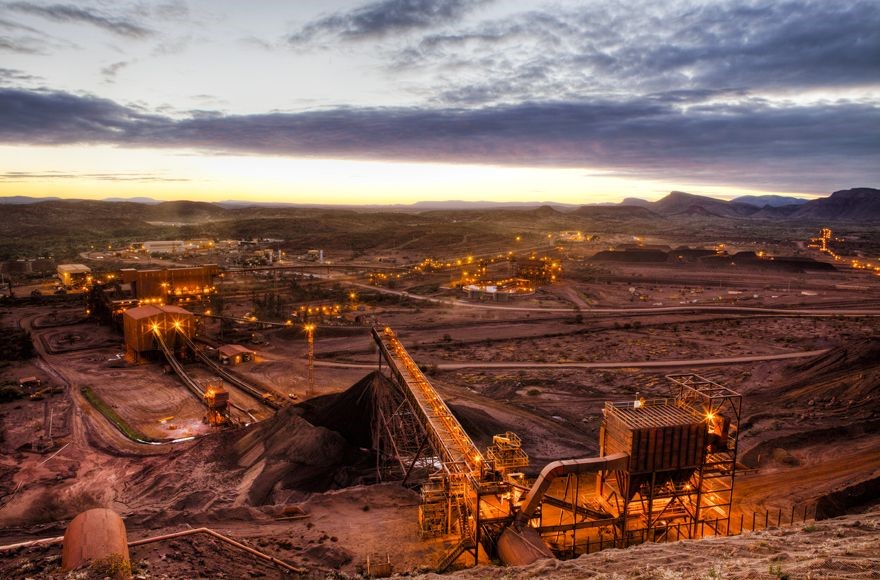 The regulatory framework will be tested with case studies, including the Latrobe Valley Regional Rehabilitation Strategy. Professor Alex Gardner, from the University of Western Australia, is leading the project with co-researcher is Dr Yvonne Haigh, from Murdoch University. For more information contact CRC TiME.
A 0.8 full-time equivalent (FTE) 11 month research associate position is available in the UWA Law School working with Professor Gardner. The position is scheduled to run from 27 January to 24 December 2021. For more details contact Professor Gardner at alex.gardner@uwa.edu.au.
---
Institute of Railway Technology & Maintenance Technology, Monash University
The Institute of Railway Technology and Maintenance Technology at Monash University undertakes contract research through industry partnerships with leading global mining companies to transfer state-of-the-art technology, and workforce based innovation, ranging from mine rehabilitation to critical minerals. Research areas include : exploration success, productivity-enhancing technologies, value adding, sustainable development, and energy efficiency.
---
Artificial soils – a success story of mine rehabilitation in the Latrobe Valley
Creating artificial soils from industrial waste products.
As the Latrobe Valley's three brown coal mines have grown in size over the years, they are experiencing both an insufficiency of natural topsoils, and challenges in the management of hostile (for plant and soil organisms' growth) post-mining soils for the progressive rehabilitation of the mines. Artificial soils have been created by utilising waste products from three different industries located in the Latrobe Valley, namely mining (e.g. overburden, subsoil, waste brown coal and fly ash from the power plant), paper and pulp (e.g. effluent sewage recovery and recycling waste) and wastewater industries (e.g. compost).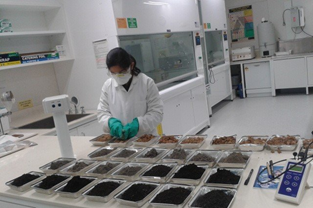 Waste products were mixed in different proportions and tested in a laboratory (Photo 1) greenhouse, and field conditions to establish the best artificial soil type, which has properties suitable for plant growth, is safe for the environment, and is self-sustaining in the long term.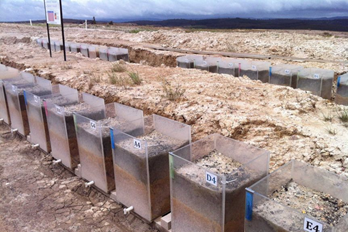 Initial experiments (Photo 2) revealed that the mixture of overburden and fly ash can mitigate acid mine drainage, and immobilise heavy metals. Adding paper mill compost and brown coal increased the content of essential macronutrients enabled plant growth.

The outcome of the initial field trial's plant growth was suboptimal due to high salinity, alkalinity, and low seasonal rainfall. Replacement of paper mill compost with green waste compost, and reduction of fly ash significantly improved the soil chemical properties, and supplied additional nutrients, which boosted plant growth. Preliminary results from a current field trial at Loy Yang mine are showing that plant growth in artificial soil is better than in natural topsoil.
The project is led by Mohan Yellishetty, Associate Professor, Resources Engineering, Department of Civil Engineering, Monash University, along with Dr Alena Walmsley, and Dr Likitha Mundodi. For further information contact Resources Engineering, Monash University.
---
The Integrated Mines Research Group (IMRG)
Established in 2016 by the Latrobe Valley coal mine operators AGL Loy Yang, ENGIE Hazelwood, and EnergyAustralia Yallourn, the IMRG's mandate is to fulfil the requirements from the Hazelwood Mine Fire Inquiry (HFMI) 2015/16, Volume IV Mine Rehabilitation, Recommendation 18. The IMRG's Steering Committee, comprising six senior representatives, two from each of the three Latrobe Valley mine operators, is responsible for approval of research topics and projects, funding and resources, stakeholder engagement, and communication with government authorities.
An integrated research plan has been developed by the IMRG which identifies common research areas and priorities for a ten-year period, and is reviewed every three years. The research plan details: collaboration between the mining operators, common research areas, prioritisation of research, research scopes, and delivery timelines for the research projects, as well as consultation with regulators, research bodies, and stakeholders.
Research projects, developed through stakeholder consultation relate to four overarching areas of research: landform evolution modelling/geomorphology, water, fire mitigation, and long term considerations. The original research projects include:
Cover on coal: stability, water quality, fire, and vegetation.
Full lake benefits and interconnectivity with three lakes: water, and stability.
Lake fill rates (rebound/recharge): water, and stability.
Horizontal drains: stability, water quality, and fire.
Long term pit lake water quality.
Research existing rehabilitation experiences: stability, water quality, fire, and vegetation.
Social and economic closure effects: social, and economic.
Spontaneous combustion: fire, and stability.
Stability: stability, water quality, fire, and vegetation.
Timelines for maintenance and monitoring: water quality, and stability.
Wave action, beaching and shoreline treatment including vegetation: stability, water quality, fire, and vegetation.
In 2019 the IMRG held a milestone workshop with stakeholders to review the work completed to date, consider the planned priority activities, and coordinate the research areas between the three entities for the remaining seven years of the research plan, particularly in light of changes that have occurred since the original plan was developed in 2016.
Each mine licensee undertakes research within each research area, and as it relates to the mine's current stage in their lifecycle. For example, ENGIE Hazelwood have progressed their research more than AGL Loy Yang or Energy Australia Yallourn, as the mine has already ceased operations and is in its active rehabilitation phase. Results from the research projects are shared between the licensees, and other stakeholders, including the Latrobe Valley Regional Rehabilitation Strategy and the MLRA For more information contact IMRG.
---
In the news
The Latrobe Valley Mine Rehabilitation Commissioner 2019 – 20 Annual Report was tabled in both Houses of Parliament, and is the third and final report of the work of the Commissioner and his team. Read more and download here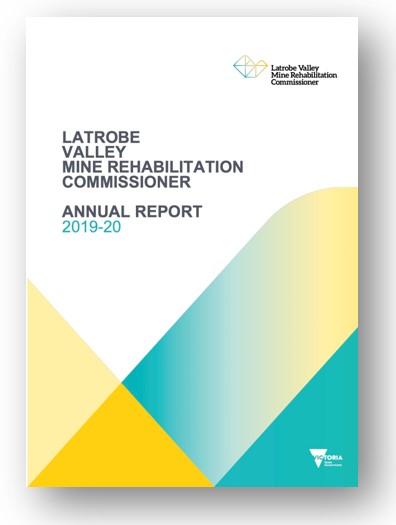 ---
Upcoming events
MLRA invites you to two webinars on the Latrobe Valley Regional Rehabilitation Strategy Implementation Actions.
The Department of Environment, Land, Water, and Planning (DELWP) will be presenting further information on Implementation Actions 1, 3, and 4, and the Department of Jobs, Precincts, and Regions (DJPR) will be presenting further information on Implementation Action 5. Event and registration details will be available in early 2021 on the MLRA website.
Webinar 1: 2 February 2021, 5.30pm. LVRRS Implementation Actions 1 and 3.
DELWP will provide further information on Implementation Action 1: the provision of guidance on the use of climate change scenarios for water resource planning for mine rehabilitation, and Implementation Action 3: the development of guidance on potential water sources and access arrangements for mine licensees to undertake rehabilitation.
Webinar 2: 9 February 2021, 5.30pm. LVRRS Implementation Actions 4 and 5.
DELWP will provide further information on Implementation Action 4: further feasibility assessment of alternative water sources that could be used for mine rehabilitation, and DJPR on Implementation Action 5: investigating alternative and contingency rehabilitation options to manage land stability and fire risks if sufficient water is not available for mine rehabilitation.
---
Merry Christmas and Happy New Year!
Wishing you and your family all of the joys of the season, and best wishes for a happy, safe, and successful New Year.
From the MLRA team,
Rae, Rhonda, Mark, and Illira.
---
Get in touch
Our office at Suite 5, 55 Grey Street Traralgon, is closed for the time being in line with COVID-19 restrictions. You can call our team, who are working remotely, on 1800 571 966 during normal business hours, email contactus@mineland.vic.gov.au or send us a message.
We will be closed for the holidays from 23 December 2020 to 2 January 2021.
Follow us
Connect with us on Facebook @MLRAVictoria or LinkedIn @MineLandRehabilitationAuthority
We're moving
From March 2021, we will be located at the Latrobe Valley GovHub, 65 Church Street, Morwell.
Subscribe
Would you like to receive our newsletters via email? Subscribe here.
---