Commissioner's welcome
Welcome to our quarterly newsletter, our fifth edition and our first for 2020.
We recognise that for many of us, the start to the new year has been a tough one. Our thoughts are with those communities impacted by the bushfires in East Gippsland
and across the border, and we express our thanks for the tireless work of those on the frontline and in the relief and recovery efforts. It's humbling to hear incredible stories of comradery and see the overwhelming community support and resilience, in what has been a very challenging time and will continue to be for a while yet.
As we enter a new decade, 2020 is shaping up to be a year of major milestones for mine rehabilitation planning in the Latrobe Valley.
The next four months is full of activity as ENGIE submits its Rehabilitation and Closure Plan for the Hazelwood mine. Preparations are underway for the delivery of the new Declared Mines Regulations in July. We continue to work closely with the Department of Jobs, Precincts and Regions (DJPR) and the Department of Environment, Land, Water and Planning (DELWP) in reviewing the Latrobe Valley Regional Rehabilitation Strategy (LVRRS) which is due for completion in June.
June will also mark the end of the Commissioner's role. From 30 June, our office will become the new Mine Land Rehabilitation Authority. This means that our name will be changing, but our purpose will remain the same. In coming months, you may see some new faces, with recruitment now underway for four new Board members who will commence at the same time as the Authority is established.
In the meantime, we have recently welcomed two new members of our team. Danielle Tilley started with us in November as Business Support Officer, and Mark Pratt has taken up the role of Technical Advisor in January, working alongside Rhonda Hastie. It is excellent to have them on board so that we can meet the heavy workload as we transition towards the new Mine Land Rehabilitation Authority and the implementation of the LVRRS.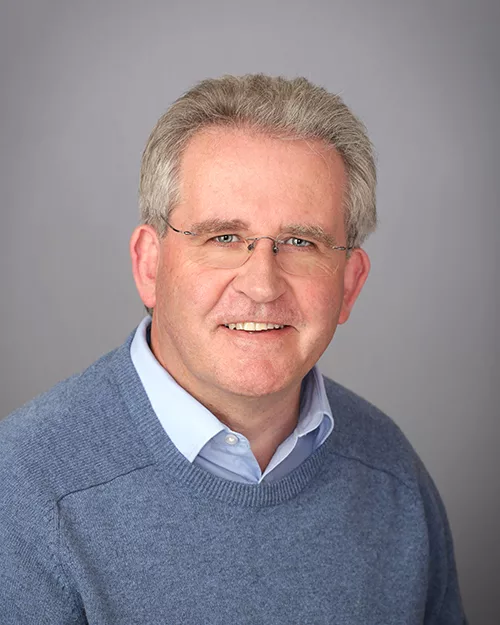 Yours,
Rae Mackay
Latrobe Valley Mine Rehabilitation Commissioner
---
ENGIE submits Hazelwood Rehabilitation and Closure Plan
Our office is well into the mammoth task of reviewing more than 90 technical water and site-wide studies that were completed by ENGIE over the last three years to support its Rehabilitation and Closure Plan (RCP) for Hazelwood.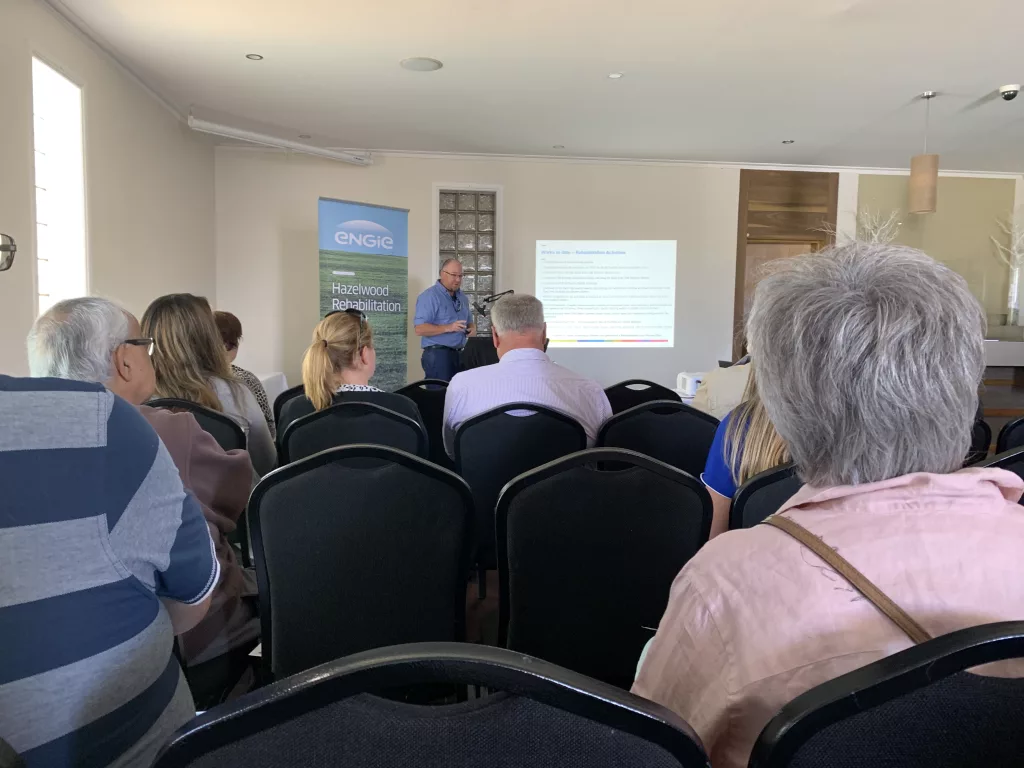 ENGIE is proposing a full pit lake through two development stages that will allow opportunities to test the proposal. The mine could begin filling as early as next year pending government approvals through Earth Resources Regulation.
ENGIE Mine Technical Services Manager James Faithful talked through Hazelwood's rehabilitation plans at a public forum in Morwell in December. The RCP explains the work that will be undertaken to enable ENGIE to meet its rehabilitation goals and deliver a safe, stable and sustainable landform for future beneficial land uses.
Over the past two years, several rehabilitation options were assessed and only two were considered viable – a full or partial pit lake. Both options have advantages and disadvantages.
A full pit lake means almost all coal will be covered by water, lowering the risk of instability and fire. But this landform requires more water, which means steps need to be taken to limit impact on water sources while also ensuring the community can be certain filling will be achieved in a reasonable time.
A partial pit lake will use less water, but this landform would support fewer future use options, potentially restricting future access. Ongoing maintenance and monitoring will be required, and there is a higher risk of erosion and fire.
James explained that ENGIE recognises there are challenges for the future and is confident it can work within existing water entitlements and sources to fill the mine – with the first step, achieving a partial pit lake.
---
A master plan for Hazelwood
What would become of Hazelwood if the final rehabilitated landform is a full pit lake?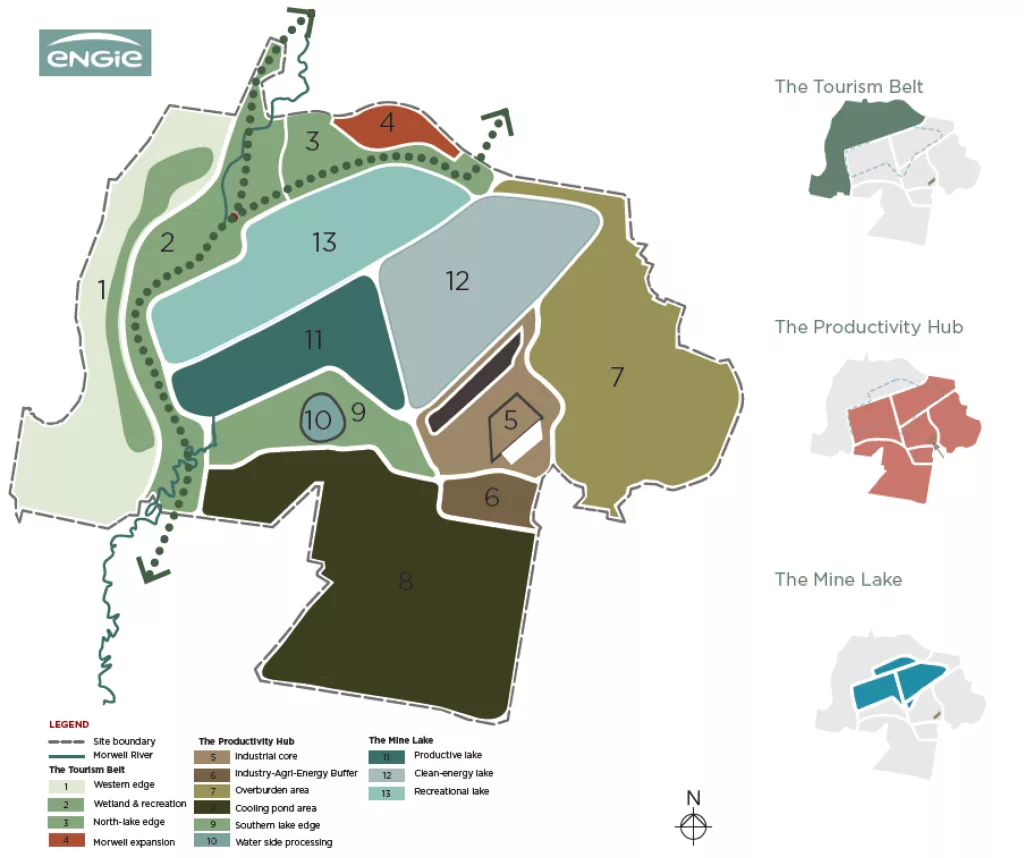 ENGIE has developed a Concept Master Plan (CMP) that maps out the potential opportunities and the future investment potential for the site.
The concept framework divides the site into three key areas:
The Tourism Belt – providing a centre for tourism, recreation and small-scale agriculture, located around the mine lake.
The Productivity Hub – centres around the key asset of the switchyard to be home to a range of industrial, energy producing and agricultural users that take from and feed into the grid.
The Mine Lake – the heart of Hazelwood, supporting a range of recreation activities and energy-related activities.
ENGIE says that while the plan is a vision led by them, the success of the redevelopment of Hazelwood will depend on partnerships between community, business (new and existing), service providers (government and private), and other public sector partners (local, state and federal government).
Latrobe Valley Regional Rehabilitation Strategy
The Overview of the proposed Latrobe Valley Regional Rehabilitation Strategy was available for review and comment through the engage.vic.gov.au website.
Many submissions were made on the Overview before the deadline on 17 January.
You can view the submissions and read more about the Overview and Strategy at engage.vic.gov.au/latrobe-valley-regional-rehabilitation-strategy.
---
Questions from the community
Over the last three months, the Commissioner met with members of the Gippsland Lakes Coordinating Committee, Committee for Moe, and teaching staff at Moe's St Kieran's Primary School to talk all things mine rehabilitation. Here are a few of the questions that were asked.
Why can't we use the desalination plant?
At the present time, desalinated water and the transfer of it to the Latrobe Valley is considered to be too costly for mine rehabilitation compared to existing water sources. This and other alternative water sources, such as recycled treated wastewater, may become more feasible or attractive if low water availability in the Latrobe system limits rehabilitation progress significantly.
Is it too expensive to create clean energy with brown coal?
The Hydrogen Energy Supply Chain pilot project plans to produce hydrogen using brown coal from Loy Yang mine and transport it to Japan. For it to be feasible and successful, carbon, capture and storage would be needed. The CarbonNet project led by the Victorian and Federal Governments, is investigating the potential for establishing a commercial-scale site to capture and store carbon in Bass Strait.
What can we do as a community?
Community members have an important role in suggesting ideas and opportunities linked to mine rehabilitation plans and outcomes. Community suggestions will help make decisions about future land use in the Latrobe Valley including the rehabilitated land surrounding the mines.
---
November forum recap
We had a great turnout to our public forum in Morwell in November, with more than 90 people attending.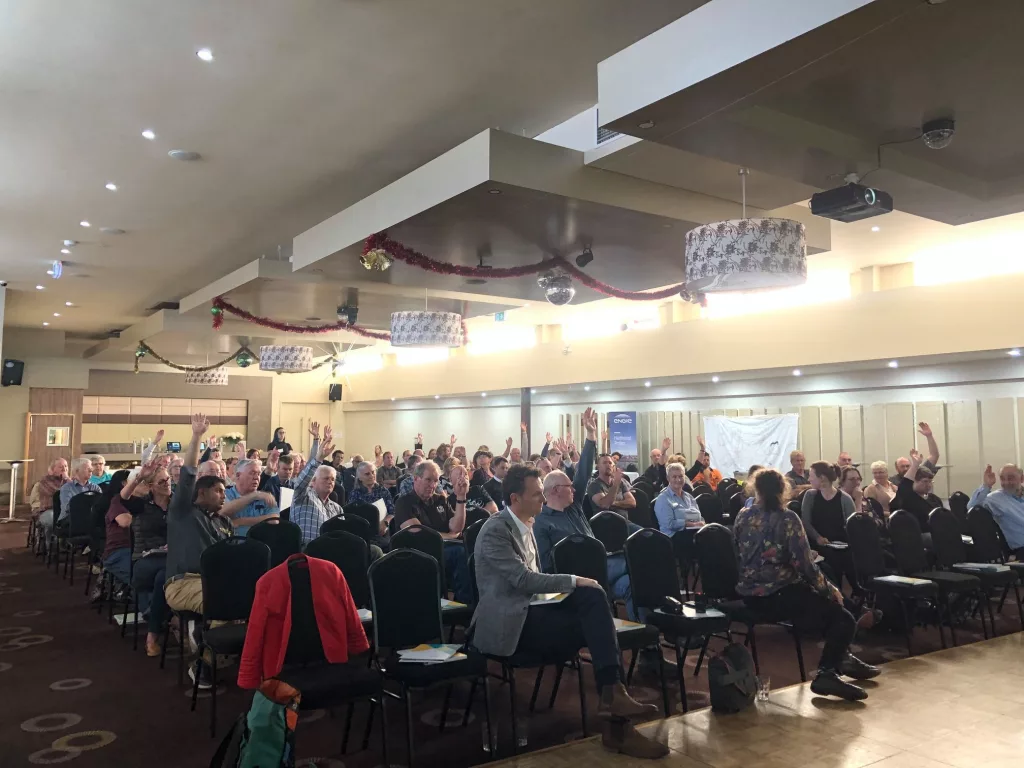 The forum featured presentations by the Commissioner Professor Rae Mackay, DJPR Acting Director Coal Resources Victoria Anthony Feigl, and a panel session with Jon Missen from AGL Loy Yang, Antonia Scrase from EnergyAustralia Yallourn and James Faithful from ENGIE Hazelwood.
A quick vox pop in the room indicated the majority of those in the audience who opted for a pit lake (pictured).
It's always pleasing to see community members interested in discussions about mine rehabilitation with many questions received from the floor.
You can view a recap of the event and responses to the questions here. Thank you to everyone who came along and made it a success.
---
Are you a teacher planning your terms for the year?
We're offering free education sessions for students in the Latrobe Valley to learn more about mine rehabilitation in our region.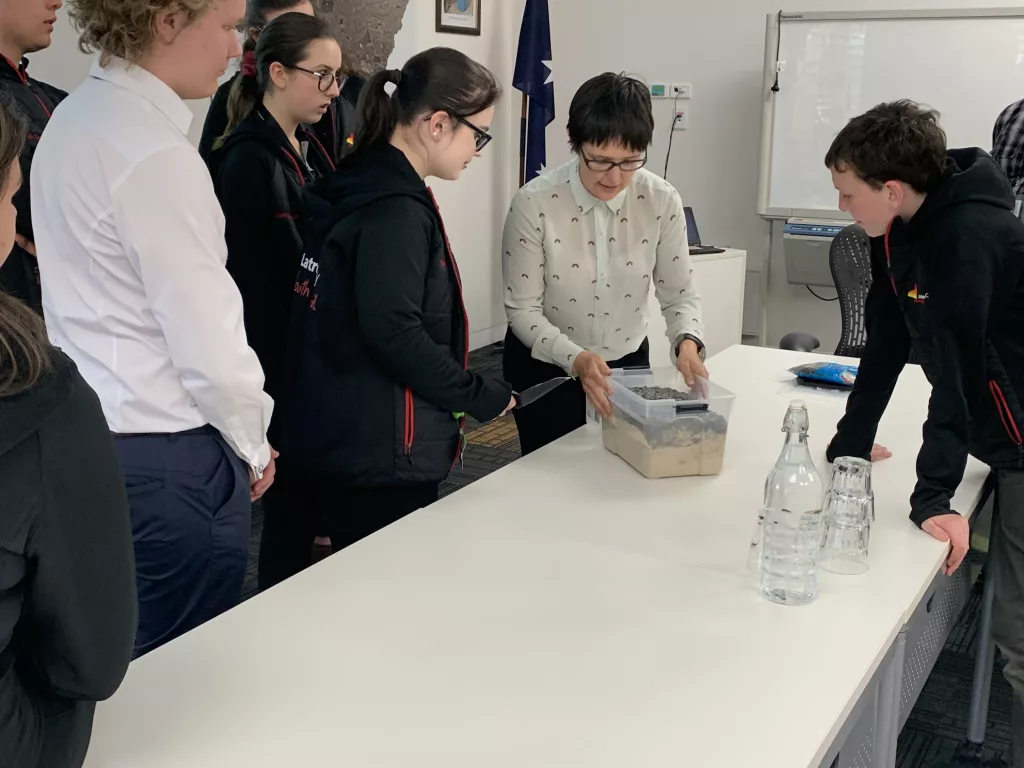 Our lesson plans are suited to primary and secondary school learning and have been developed to meet the Victorian Curriculum.
Students participate in interactive discussions featuring hands-on demonstrations, role-play, group activities, and learn about the Latrobe Valley landscape, towns and mines using our 3D timber model.
If you would like more information or to book a free session, please visit www.mineland.vic.gov.au/education or call 1800 571 966. You can also view some of the activities at our pop-up displays in April.
---
School holiday fun with our 3D model roadshow
This April, we're taking our 3D model of the Latrobe Valley to you.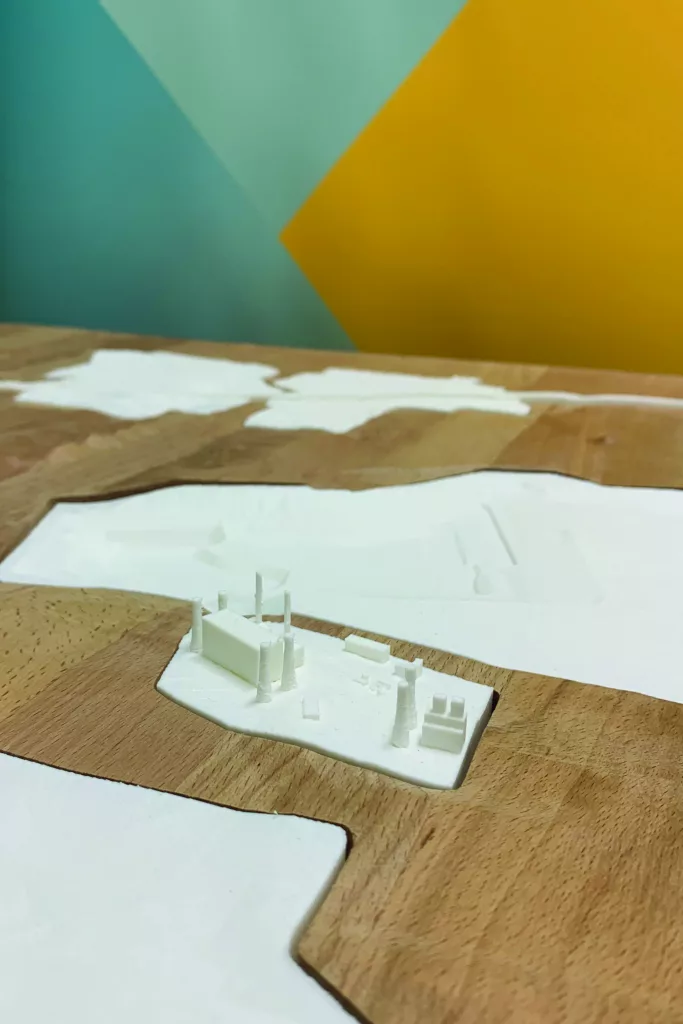 Drop in to our pop-up displays in Traralgon, Morwell and Moe to learn more about mine rehabilitation planning in our region.
Pick up a free seedstick pack, activity sheets for the kids and participate in activities which are also a feature of our new education program for schools.
Stay up to date on our Facebook events page or visit www.mineland.vic.gov.au/events.
Mid Valley Morwell
Food Court near Woolworths
11am – 3pm
Tuesday 30 March
Stockland Traralgon
Food Court opposite Donut King
11am – 3pm
Wednesday 1 April
Thursday 2 April
After school holidays:
Moe Library & Chit Chat Coffee Cart
Drop in and see us to receive a free coffee
10am – 12pm
Tuesday 21 April
---
Community group meetings
The Commissioner and team frequently attend community group meetings to chat about mine rehabilitation and answer your questions. Our next meetings will be with:
Gurnaikurnai Land and Waters Aboriginal Corporation (GLaWAC)
Wednesday 4 March
Gippsland Environment Group
Wednesday 4 March
Latrobe Valley Field Naturalists Club
Friday 28 August
---
Save the date – 17 June 2020
Join us for the Commissioner's final public forum on Wednesday 17 June. More details to come.
---
In the news
---
Stay up to date with the Mine Land Rehabilitation Authority
Our name is changing, but our purpose will remain the same. From 30 June 2020, the new Mine Land Rehabilitation Authority will be established, and the office of the Latrobe Valley Mine Rehabilitation Commissioner will close.
During this time and from the commencement of the new Authority, we will continue to share news and information with those on our mailing list.
You can sign up or unsubscribe here or email commissioner@mineland.vic.gov.au.
---
Any questions?
The Commissioner and team encourages lively discussions with community members. If you have any questions, or if you'd like to arrange a meeting with the Commissioner, please contact our Traralgon office on 1800 571 966, email commissioner@mineland.vic.gov.au, send us a message at www.mineland.vic.gov.au/contact, or connect with us on Facebook.